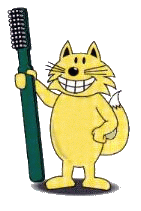 How To Brush Your Pet's Teeth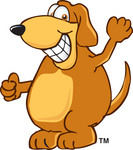 Step 1 - Select an appropriate time. Find a quiet, convenient time when you and your pet are both relaxed. After the evening meal is a good time for most people.


Step 2 - Acquaint your pet with the process. For the first few days, simply hold your pet as you normally do when petting him/her. Gently stroke the outside of your pet's cheeks with your finger for a minute or two. After your pet becomes comfortable with this activity, place a small dab of the gel on your finger and let him/her sniff and taste the gel.


Step 3 - Introduce the fingerbrush. Slide the fingerbrush onto your index finger. If it is too tight, wet it with hot water and it will expand for a better fit. Place a small amount of gel on the brush. Gently raise your pet's upper lip and place the brush against an upper tooth and the adjoining gumline. The purpose of this step is to get your pet accustomed to the feel of the brush.


Step 4 - Gently begin brushing. On the next days, follow the procedure in step 3 and gradually increase the number teeth brushed. Eventually brushing the important rear teeth, but go slowly and do not go beyond your pet's point of comfort. Build up to approximately 30 seconds of brushing per side. Your pet's tongue is usually able to keep the inside of the teeth clean, so you need only concentrate on the outside surfaces.




Most Important

Be very patient, proceed slowly and gently and use plenty of petting and praise. Soon, both you and your pet will look forward to the time you spend together during this important health care procedure.